James Crofutt - Civillian Newspaper Impression



Reenactor Volunteer at the Shoal Creek Living History Museum near Liberty MO. - Town Newspaper for 1st Saturday's program.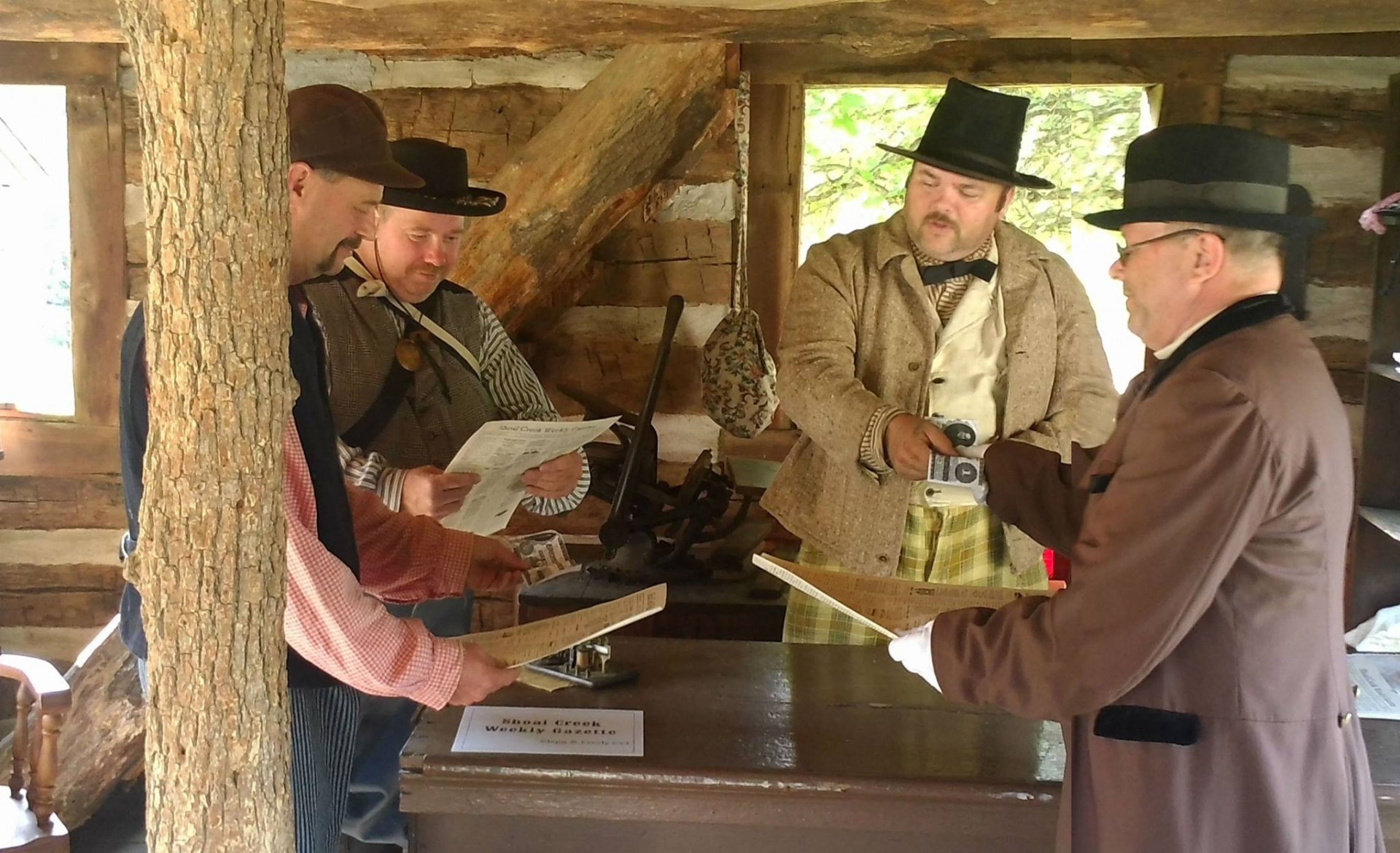 A newspaper impression without an actual newspaper would be pointless. If we chose to only have a single prop newspaper for demonstration purposes then the visiting public would not really get a chance to see and feel the many historical items of interest that really took place due to a limitation of time & paper size. Many original adds are difficult to recreate or they are too small to read when being put together on a single 11X17 size page in a 5 column layout. But at the same time a single prop paper wouldn't help contribute an important part in bringing the town to life for the day.

Each 1st Saturday event portrays a different year and so the newspaper should reflect that and our Re-enactors who are bringing the town to life would naturally want to have the latest edition of the town newspaper. So it is important that we produce an actual newspaper for distribution.
Our little Newspaper is produced on two 11X17 size paper and each page is glued together by hand. Unfortunately despite modern day technology your average copy center is unable to print anything larger than the standard 11X17 size paper. In order to print larger size one must go to a specialty printing business which increases the cost considerably.
Currently it cost us about $100 to produce the Shoal Creek Weekly Gazette for each 1st Saturday and it seems that we typically run out of papers around lunch time.
Our Newspaper has always been free to the visiting public and it is our goal to keep it that way. "History Preserved Through Knowledge Shared" is our motto. We are not doing this for any type of profit, but rather our passion for 19th century newspapers and our impression that contributes to the 1st Saturday living history program. But unfortunately too often we are limited on what we can do by our budget.
Next year we want to try to make the Shoal Creek weekly Gazette a more period correct publication and increase it's current size from 11X17 to that of 29x23 which folded in half would make each issue 14x22 in size and a more closer representation to that of a proper size of a typical 19th century newspaper.